The anime world is extremely diverse and offers countless emotions. You certainly once gloated with humorous, enraged situations with the irony of the characters, and certainly had to drop tears before touching scenes right?
So when did you cry when watching the anime below?
1. Golden Time
Golden Time tells the love story of two boys and a girl based on light novel with the same name of the author Yuyuko Takemiya. Mitsuo and Kouko have been friends since childhood, missing the engagement with Kouko, and during his teenage years, Mitsuo had to constantly avoid her friend, and eventually got caught by Kouko when she entered the law school. The third person in this relationship was Tada Banri, a friend that Mitsuo got acquainted with right at the school entrance; This friend used to have memory loss due to an accident and just missed a year of school to recover…
2. Byousoku 5 Centimeter (5cm/s)
This is a sad love story that takes place in Japan, starting from the 90s when Takaki Tono was 13 years old to the present when he went to work. Film consists of 3 small chapters combined 62 minutes long: Oukashou (The Chosen Cherry Blossoms), Cosmonaut and Byousoku 5 Centimeter (5 Centimeters per Second). The first chapter begins the story with a childish promise, leading the viewer one by one through three important times in the life of Takaki Tono and is related to his love for a girl.
3. Grave of the Fireflies
The film is set in the context of the late World War II in Japan, telling the touching story of the brotherhood of two orphans Seita and Setsuko. The two brothers lost their mothers in an intense bombing of the US Air Force when their father was fighting for the Japanese Navy. The two children struggled between starvation, the indifference of those around them.
4. Angel Beats
The stories and details of the film take place in the world after people die. There were people like Yuri and the SSS group – people who stood up to fight against God and decided not to be reincarnated. The film takes viewers to surprises and admiring admirers about the content of meaning, beautiful images and great music. Yuri, Yui or Otonashi's traumatic past is shown in the emotional movie.
5. Hotarubi no Mori e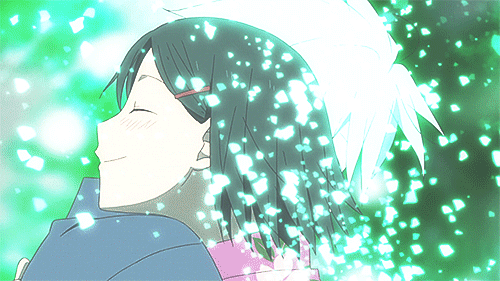 The story revolves around Hotaru, a girl straying into the mystical forest where the spirits reside. A young man named Gin helped her but she couldn't touch him or he would vanish. A story without scenes of confession, fist, intimacy but makes people seem to sink into that love story. Gin – the guy with the mask, the soul saved by the god of the forest … The naughty Hotaru, from the moment she met, she laughed when she rushed to Gin Chip. Then after the meetings, she grew up and love flourished gently but strangely long. And, the most touching detail, the last hug!